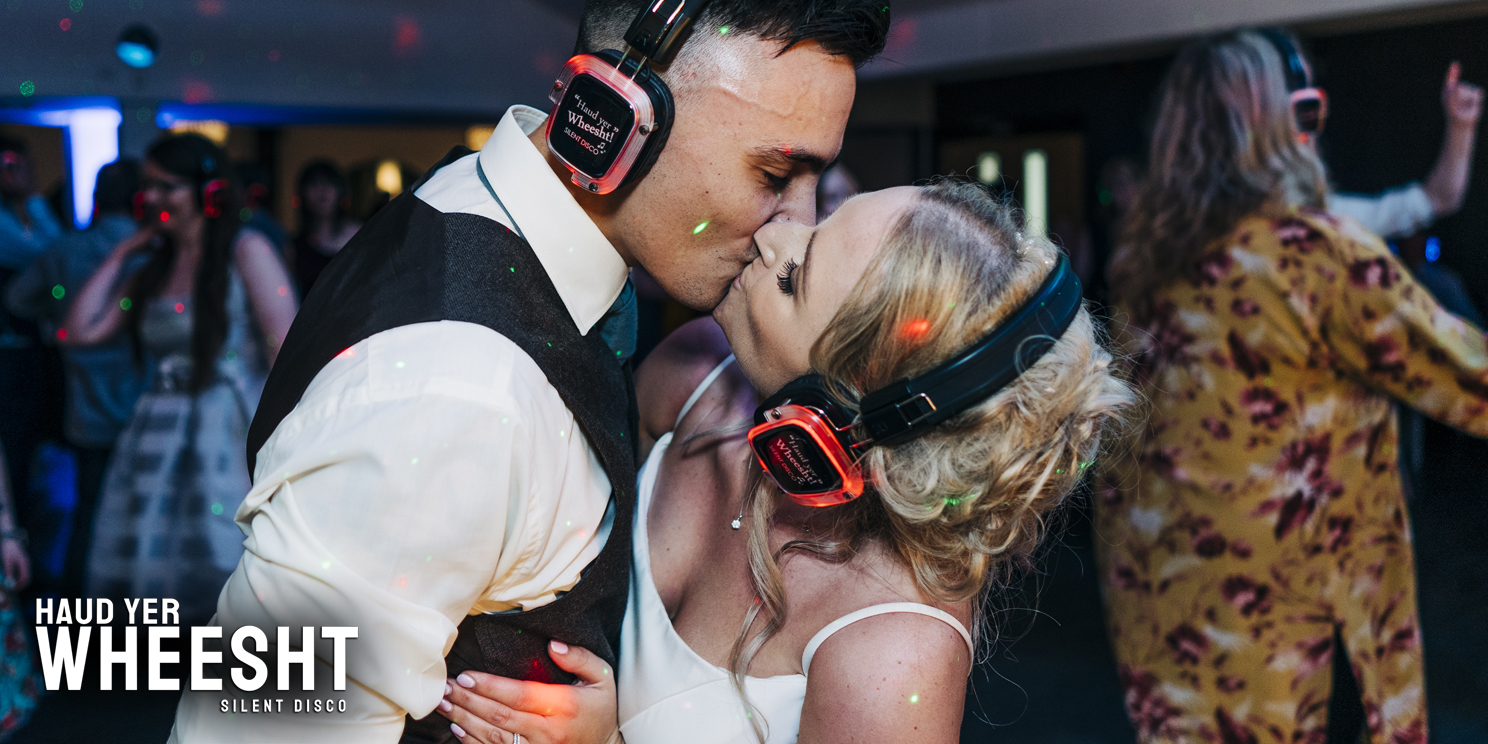 Contact Us
Whether it's to request our
Package Information and Pricelist,
check our availability or for more details on an upcoming event.
Please do get in touch, we would love to hear from you!
Email us at:
HYWsilentdisco@gmail.com
Or use the form below.
*******
Requesting a quotation?
Please let us know:
1) Type of function
2) The venue and location
3) Date of function
4) Number of headsets
5) Full or partial nights entertainment
6) Any other relevant details
This was fantastic - never seen everyone on the floor before at the end of the night shouting one more song!!
Fab night Haud yer Wheesht! xxx
Ann McBride
We were at a brilliant wedding last night in Fife and Haud yer Wheesht Silent Disco were there.
If you have a celebration coming up, please consider this for part of the night! You won't regret it. Everyone had a great time and loved it.
You couldn't help but sing, dance, laugh and PARTAAY!
Nicky Payne
What can I say – BEST NIGHT EVER!!!
I have never seen a dance floor that busy for that length of time! My mum and dad don't normally get up for a dance however they barely sat down!
Fab night and will be sure to attend another one in the future. x
Jenni Hasty
HYW did a silent disco for the family at dads wedding… absolutely fantastic!!
If your initial thoughts are a bit unsure of a silent disco you really must give it a go. I was the same and it really was a brilliant and fun experience, a laugh a minute. Crackin night!
Donna Henderson
Can't recommend these guys enough. Had Haud yer Wheesht come along and do a set at our Wedding and everyone just thought it was brilliant.
Love how they have 3 channels so it's funny watching one person dancing away to Steps and another to Bits and Pieces.
Anyone looking for something different for their wedding then these are your guys!!
Demi Gamba
What a brilliant idea !!!
Had a fabulous evening. So many different tunes to dance to. Danced for hours.
Joyce Reid
Well I think the best way to start this review is by saying I was not looking forward to last night because I'm not a fan of the dance floor. However I went along for the ride for my partner who promised I'd love it and LOVE it I DID! I didn't leave the dance floor all night.
For whatever reason, I had no worry what so ever about anything else that was going on around me. Lol Just me and the beats and my Happy Feet!
Paul Martin
Incredible!!!
I absolutely loved it!! Once you put those headphones on you are literally dancing for four hours straight!! What a night!!!!
Leanne Sweaton
These guys were at my friends wedding last night.
Absolutely brilliant, they had the whole hall on the dance floor.
Highly recommend. Excellent
Richy Curran
What an experience. Haud yer Wheesht made sure everyone had a great night.
If you've not been to this then get yourself along ... a fantastic night guaranteed.
Lesley Harper
What a fantastic night! Great variety of music and something for everyone to enjoy.
Good fun changing between the channels to see what everyone else is listening and dancing to. Extra wee giggle taking the headphones off to hear everyone singing along!!
Can't wait for the next one!xx
Sharon Bruce

All design © Haud Yer Wheesht Silent Disco
Coded by John Thornley – Fife Web Design